A caramel shell with a unique rich centre
Discover what makes Toffifee so unique
The eyes go "Ohhh" while the mouth goes "Ahhh"
Delicious caramel
The shell made of delicious caramel. Its unique shape makes every Toffifee an unforgettable experience.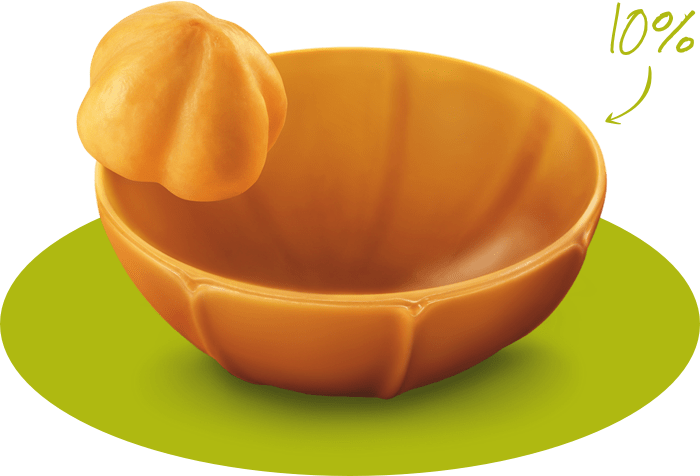 A nut nestled in a shell
Our hazelnuts are roasted using a special process. A crunchy hazelnut nestled in a shell of delicious caramel. The unique shape makes every Toffifee an unforgettable experience.
Nougat galore
The smooth creamy nougat is poured over the nut and into the shell, creating the perfect seal combining hazelnut and cocoa.
The icing on the "Mmmm"
The perfect finish! A drop of rich chocolate is the hallmark topping of every piece of Toffifee.
Integration of nutritional information
Nutritional information
Nutrition Facts

Per 5 pieces (42 g)

% Daily Value*

Calories
220
Fat
12 g
16 %
Saturated
5 g
25 %
Trans
0 g
Carbohydrate
26 g
Fibre
1 g
4 %
Sugars
21 g
21 %
Sugar Alcohol
1 g
Protein
2 g
Cholesterol
0 mg
Sodium
30 mg
1 %
Potassium
125 mg
3 %
Calcium
50 mg
4 %
Iron
0.75 mg
4 %
*5% or less is a little, 15% or more is a lot
A Hazelnut in Caramel with Creamy Nougat and Chocolate.
Ingredients: Sugars [sugar, glucose syrup (wheat), lactose (milk), cane sugar syrup], Modified palm oil and modified shea oil, Hazelnuts, Skim milk powder, Sorbitol syrup, Cocoa mass, Condensed partly skimmed milk, Condensed whey, Cocoa powder, Cocoa butter, Butter fat, Whey powder, Soy lecithin, Salt, Natural and artificial flavours.
Contains: Wheat, Milk, Soy, and Hazelnuts. May contain: Almonds, Peanuts, Other tree nuts.
Comment
Information about our ingredient and nutritional values are displayed here to reflect our current product formulations. We recommend you to compare this information with the information on the packaging. Any variations will be due to this being a transition period, as a result of new legislation or other changing conditions.
Last change on: September 2022